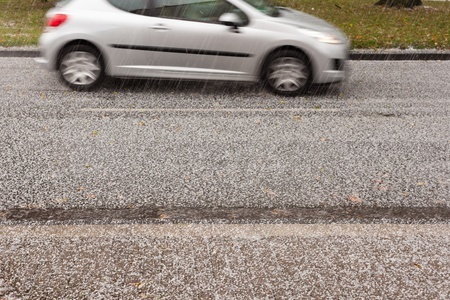 We're just a few weeks away from the beginning of hail season in Texas. Last year saw parts of the state routinely suffer from hailstorms that caused extensive damage to cars, trucks and homes.
Texas saw hailstorms on 150 separate days last year, including the city of Stephenville near Fort Worth, which saw three large hailstorms across a 16-day period in late April and early May that brought hail of golf ball and softball size, notes Varisk Climate.
As we enter hail season, here are a few tips to make sure you are ready:
Be Alert
Hailstorms can come on quickly, but you will usually get some warning – even if it's only a few minutes. The best thing to do is stay connected to a local news outlet that transmits emergency information from the National Oceanic and Atmospheric Administration. These alerts primarily arrive through text or SMS alerts to your phone, making them easy to keep mindful of.
Cover What You Can
If you can get to your car easily, quickly move it to a place where it can be somewhat protected, such as a garage or at least a covered area like beneath a tree. This can sometimes be difficult, but if you live somewhere that gets a lot of hail, it could be benefit to invest in a simple car cover or pop-up carport to protect your automobile.
Assess the Damage
After a storm, take a quick look at your car and your home to see if anything was damaged. For cars, look for cracks to windshields that can be dangerous the next time you drive. If you notice large dents to your car, call the Dent Sharks. Our team can get rid of dents using our breakthrough methods and equipment, making your car look like new with paintless dent repairs!
Plan for Next Time
The saying always goes to learn from the past lest you be doomed to repeat it. If you've suffered damage from a hailstorm, think about what you can do before the next storm to protect your car and your home. Sometimes even simple solutions can work well to protect your most valuable possessions, saving you not only from headaches and hassles, but also saving you time and money!
Dent Sharks extensive dent and hail damage repair capabilities allow us to restore your car's original looks without fillers or repainting. No matter the make or model, we can restore many dents at a fraction of the cost and time of a body repair shop. If you're in need of dent removal, give our team a call today at 832-916-5393.