Spring is here, and the weather is starting to turn for the better, which means we'll all be spending more time outdoors going for drives and heading to different events. With this in mind, our cars are more susceptible to damages throughout the summer from parking garages, parking lots, and much more. With more drivers out on the road, it's good to be aware of your surroundings.
It is very easy to get a dent in your car all year round, but we want you to be reminded of the safety tips to not get them in the summer.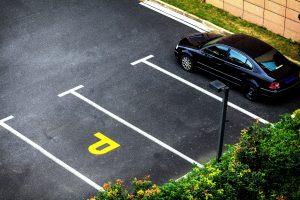 For the Garage
Dings and dents can often occur in the garage. It's important to do some de-cluttering during the summer, so that if you end up parking your vehicle in the garage, you'll decrease the chances of an object denting your beautiful car.
Parking
Be cautious of parking in parking lots and on streets. There can always be minor accidents with other drivers out and about. If you're parking in a lot, try and find a spot that's away from other cars. At the grocery store, park away from the shopping cart areas because sometimes these can give you dents. If you're in a packed parking lot, always be careful when opening the door and backing out. This can be applied to parallel parking as well.
Children
It's the summer, so that means your kids will be out playing in the great weather. Your car is obviously in danger of getting dented or dinged by basketballs, baseballs, and other sport equipment. This is a time when you should think about de-cluttering and parking in the garage. This gives your kids space in the driveway to enjoy the summer and for you to not worry about your car getting damaged.
You can only decrease your chances of getting a dent in your car. Summer is a time for enjoyment and relaxation.
If you get a dent in your everyday car or your joyride, consider talking to Dent Sharks about paintless dent repair.
Why Paintless Dent Repair?
Paintless Dent Repair has a variety of advantages over traditional painting and masking.
Contact Dent Sharks at 1-832-916-5393 today if you have acquired a dent and would like to learn more about our dent repair techniques. We can help you get back to enjoying your summer!