Seeing a dent on your beautiful high-end or luxury car can leave a horrible feeling in the pit of your stomach. Many have spent years dreaming about getting their dream vehicle, and seeing it dented – whether from a fender bender, a stray cart or a freak hail storm – can really be upsetting. That's where the professionals at Dent Sharks come in.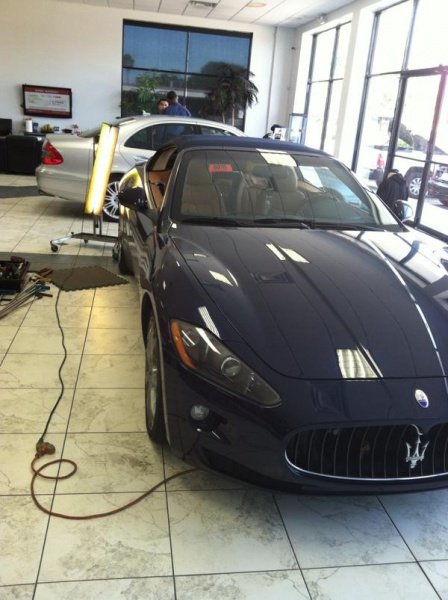 We specialize in high-end and luxury car paintless dent removal and will help your car look like new again. To fix the imperfection, Dent Sharks' experts target pressure points around the dent to help pull the panel back to its normal shape, making it look like the dent never even happened.
It's no secret that when you look at a high-end or luxury car, their smooth exterior contours and specially designed frames are what helps to make them so unique. When your prized vehicle is dented, it takes away that look and also reduces its value. To fix it, you could take it to an auto body shop – probably one that specialized in your foreign brand or high-end model – and have the affected panel replaced. However, this can then become an extensive process of trying to perfectly match the paint and making it look like nothing ever happened – a potentially very expensive process. Dent Sharks' technique is great for dents that haven't damaged the paint, and not only will a repair with us be more affordable, but it will fix the problem without compromising the original finish of the car.
Beyond fixing the aesthetic blemish, a dent repair will help restore the car's original value. If you decide in the future to sell your car, you will want it to be worth as much as possible. By going with the paintless dent repair from Dent Sharks, you keep the original look and the value of your vehicle high, allowing you to profit greatly from the sale.
At Dent Sharks, we also work around your schedule. When you're ready to have your dent removed, just call us and we can set up a time that works best for you. We'll come to you, and work quickly to restore the original, untarnished look of your vehicle, allowing you to get your high-end car back to its original great looks in no time.
To get an unsightly dent removed from your high-end or luxury vehicle, talk to the Dent Sharks. For more information about our paintless dent repair services, call us today at 832-916-5393!