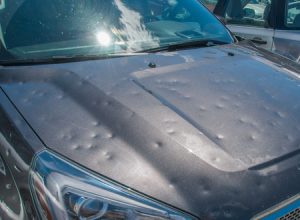 Oh no! There's been a hailstorm or a parking lot mishap, and now your car has an unsightly dent or two. It's certainly an annoyance, but don't panic.
Instead, take these steps after your car has been dented:
Record information
If the other driver is still around, ask for his or her insurance and contact information. However, even if the culprit is nowhere in sight or if the dent is due to weather damage, you can still write down some important info. This includes the date, time and place of damage. In addition, take photos of the damage.
Call the police
If the damage was caused by another driver, filing a police report will be important when you make your insurance claim. Make the call even if you don't have much information.
File an insurance claim
Not all dents will be covered by insurance, but it's important to call and find out what your policy covers. Some cover hail damage. If you have uninsured or underinsured motorist coverage, it will pay for the damage to your car after you meet the deductible.
Have the damage appraised
If your insurance company says that you do qualify for repairs, the next step is to have the vehicle appraised to assess the amount of damage and how much it will cost to fix.
Take your vehicle to a repair shop you trust
Look for a shop that has a good reputation and experience repairing dents. If you're in the Houston area, contact Dent Sharks. Call 832-916-5393 today to schedule your free personalized estimate!